Adobe Photoshop Lightroom 3 is out and, as you'd expect, it has almost all the features we've discussed previously—the much-improved image rendering and sharpening, the excellent noise-reduction routines, the lens distortion correction—and some that we haven't, like tethered shooting, improved printing layouts and a much better slideshow module.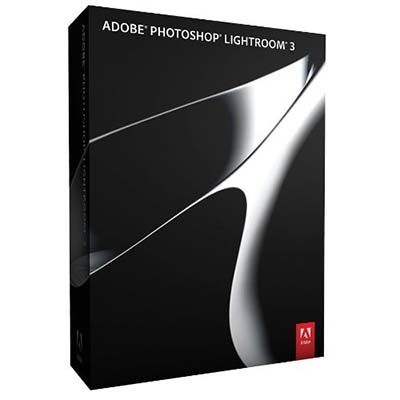 Keen Amazon UK pricing for Lightroom 3
Amazon UK is taking pre-orders for the full version
of Lightroom 3, the upgrade from version 2
and the full academic version
and right now (9th June 2010), Amazon's prices are excellent. If they fall further before the product ships, you'll end up paying the lower price. Remember: when you buy Lightroom, you get the Mac and Windows applications on the same disc. (However, Lightroom 3 won't run on G4 or G5 Macs—it's Intel only.) Adobe's standard licence allows you to install and use the application on one desktop and one laptop, provided they're not used simultaneously.
Lightroom 3 beta 2 will expire
Until your copy of Lightroom 3 arrives, you can use the beta version (good till 30th June) or download a 30-day trial of Lightroom 3 from Adobe's site.
Lightroom 3 at Amazon.com
For US readers, here are the links on Amazon's US store for the full version
and the upgrade from version 2
.
Training video
We notice as we deliver one-on-one tuition that photographers aren't particularly interested in the regular Lightroom books that we always provide. One solution if you're not keen on learning from books is video, so keep an eye on this page for the forthcoming Luminous Landscape Lightroom 3 training video by Michael Reichmann and Jeff Schewe. Michael's an alpha tester for Adobe and Jeff works very closely with Adobe on product development and testing and their Lightroom 2 training (which we mentioned previously) is very good. Expect the forthcoming Lightroom 3 edition to be insightful and informative.
(Update: for those of you new to Lightroom, take a look at these intro videos by Julieanne Kost at Adobe TV, new for Lightroom 3 but pitched at beginner level.)
Jeffrey's plugins
Lightroom 3 comes with a new Flickr plugin and a new export plugin framework that allows plugin programmers to create a richer user experience. Keep an eye on Jeffrey's Friedl's pages for details of what he offers and when he's likely to update his excellent plugins for Lightroom 3 compatibility. He offers plugins for Facebook, Smugmug, Zenfolio and others (including a much more advanced Flickr plugin for Lightroom 3) and I believe he has been working with Adobe on the plugin architecture for Lightroom 3 itself. Read this post on Jeffrey's site for more.
Lightroom 3 and Photoshop CS4 compatibility
Lightroom 3 will work just fine with Photoshop CS5 (obviously) but to get it to talk happily to the previous version, CS4, you'll need to make sure your copy of the Adobe Camera Raw (ACR) plugin is at version 5.7 or later. Camera Raw is a free release—you just need to make sure your copy is current. The "Edit in Photoshop" function in Lightroom 3 will generally work as expected when you're editing raw files in Lightroom 3 and sending to CS4 only if you install ACR 5.7. See an earlier post of ours for more information and for links to download ACR 5.7 for Windows and Mac OS X.
Expect some training materials from us, too
We're planning our own training guide—something a little different from most of what's out there. It will be based on the the questions we get asked from working photographers when we deliver follow-up training. After delivering training to enough working pros, you get to understand which things people struggle with and which come easily. You also get to learn which aspects of the raw workflow are most important to most commercial photographers—the results aren't predictable. For our offering, we'll be focusing on the key functions in a very simple, easy way. More on that later.
One-on-one training
Speaking of our own training, we're getting quite busy (which is why you're hearing less from us on this blog and e-mail list) but we'd still love to hear from you if you'd like to discuss one-on-one training, at your pace, on your own equipment. Professional, amateur, technical or non-technical—all are equally welcome. It's better than learning from a book and it's even better than learning from video. We're now offer an afternoon-only option that allows you to spread the training over a week or two, in a few, short, sessions with plenty of time in between to practice. Although most of our customers are in and around London, we've trained photographers from Birmingham to Brighton; we're getting quite good at minimising costs and expenses to deliver the best value. Wherever you are in the UK, call us on 0333 577 5703 to discuss training or, even better, complete our contact form and we'll get back to you as soon as we can. To get to the contact form, click here.