Lightroom 3 is built around a new, improved demosaicing engine (the raw converter code that makes a full-resolution, full-colour image out of your raw file). It also includes the older conversion engine used in Lightroom 2 and earlier so to see the full power of Lightroom 3, you need to make sure you're using what Adobe calls the 2010 process (that's the new raw conversion engine) on each of your raw files. The old engine is referred to as the 2003 process. (In Lightroom 3 public beta 1, they were called process version 1 and process version 2—the new names are a definite improvement.) This is a per-image setting so you can choose which images use which process and can mix old and new in one catalogue.
How do you tell which process you're using?
As of Lightroom 3 public beta 2, the main sign that you're using the old (2003) process is the unmissable presence of an exclamation mark in the lower right of your image when you're in the Develop module. The symbol appears next to any image that's using the old engine and looks like this:

To switch to the 2010 process, just click that warning symbol. You'll get the chance to review the before-and-after changes and to apply the changes to the whole filmstrip. Comparing the the changes side by side at 100% can be a useful way to understand the differences between old engine and new.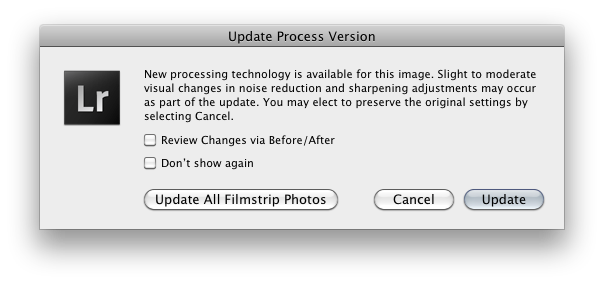 Above; the box you see when you click the exclamation mark in the Develop module
A warning about noise reduction and sharpening
In Lightroom 3 public beta 2, released today, local sharpening controls (brushes, gradients) and luminance noise reduction are both much more powerful than they were in Lightroom 2. You might find some settings for sharpening, negative sharpening and luminance noise reduction that you'd used previously to be way too high for the new versions so carefully review as you update your work.
To switch back to the 2003 process
To remind yourself of how a picture looked using the old demosaicing engine (aka process version 1 or the 2003 process), you can always switch back. In Lightroom's Settings menu, go to Process, where you'll see a choice between the 2003 version and the 2010 version. (The old process is labelled 2003 because Adobe Camera Raw—or ACR—dates back to that year. Even though Lightroom was only released in 2006 as a public beta, it shares code with ACR, which means that at some point, there will be a version of the ACR plugin that has offers this new raw conversion engine, too.)


Above: switching between processes using the Settings menu
Alternatively, you can now choose your process version from a new menu item in the Camera Calibration section of the Develop module (lower right).


Above: the new Process menu inside the Develop module's Camera Calibration section
Use virtual copies and the compare function
When you begin to use Lightroom 3, it can be useful to make a virtual copy of a picture and use the old engine (2003 process) and the new side by side on the same image to get a feel for the difference between the two raw converters. For the full effect, choose a high-ISO image, with local sharpening applied. The second public beta now includes an option to view images side by side when you convert from the old process to the new but it can be useful to do it manually, particularly for images in which you've used many brushes. Compare results at 100% using the compare function (hit C in the grid, with both versions of the picture selected) and you should see a significant—and sometimes dramatic—difference in quality.
Why do some or all files use the old process version in Lightroom 3?
If Lightroom 3 can tell that you've done some work on a raw file in Lightroom 2 or a pre-v6 release of Adobe Camera Raw, it will keep using the 2003 process for that image so that the picture continues to look just as it did in Lightroom 2. That'll happen if it sees an XMP sidecar file next to the raw file and can tell that the XMP file was created by Lightroom 2 or ACR 5.x or earlier.
What are the main differences between the 2003 process and the 2010 process?
The new 2010 process uses the new demosaicing engine in Lightroom 3, offering finer detail and better rendering of high-ISO work, among other things. Dramatically improved noise reduction, too, and much more powerful local sharpening controls. (Brushes, gradients.)
For an early and subtle example of the difference in quality between version one and version two with default settings, even at low ISO, see an earlier post on protecting fine colour detail in Lightroom 2. Towards the end, it contains some Lightroom 3 screen shots of the example image—there's a clear difference in the way that colour noise reduction works.
Now that Lightroom 3 beta 2 is available and contains working luminance noise reduction, we'll post more example files soon. Initial testing suggests very impressive NR results but it will take more time to be absolutely sure.