I've just finished reading Jeff Schewe's latest book, The Digital Negative.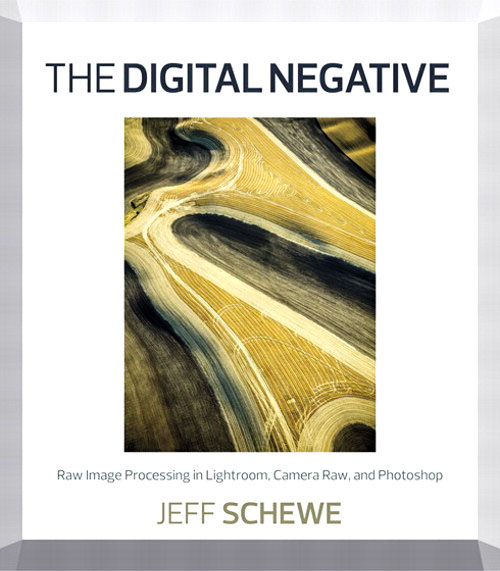 It's not suitable for a newcomer (for that, Lightroom users could try the Kelby or the Bampton) and it's not a dry, technical textbook either but if you have built up some experience either with Lightroom or Adobe Camera Raw (ACR), The Digital Negative will provide excellent detail about technique and some valuable background about digital photographic workflow in general. Schewe knows his stuff and he knows some people at Adobe who know their stuff — it's full of well informed and well tested information and techniques.
The Digital Negative appears to allow the personality of its author to come through largely unfiltered (Jeff's editors might disagree) so this is decidedly not a bland book. You get a very clear sense of the author's feelings on photography itself, on processing and on workflow. Many technical books try to be as objective and impersonal as possible; that's completely understandable but it's not the Jeff Schewe way and I think this book is all the better for being occasionally blunt.
A successful commercial photographer for many years, Jeff works closely with Adobe on testing early versions of their products and gets lots of insider knowledge, as you'll know if you've looked at any of his previous written work or the video tutorials he does with Michael Reichmann. Our outdated video recommendations, still online here and here, should be replaced with the current Lightroom courses and Camera to Print and Screen. (You might wonder why, as a company providing one-on-one workflow training, we happily recommend books and online courses in Lightroom; the answer is that the one-on-one time you spend with us always complements what you learn from videos or a book — it's interactive and gets you quick, thorough answers to your specific questions.)
Advanced Lightroom user?
If that phrase describes you, there's another likely bonus. I was very pleased, as a demanding user of every version of Lightroom since the first public beta, to find myself agreeing with most of Jeff's workflow recommendations; I suspect the same will be true for you but don't write the book off — you'll definitely learn new things and come across some fresh insights (and, of course, be generally cheered up by the written confirmation of what you've discovered yourself, through the processing and organisation of tens or hundreds of thousands of photographs).
eBook formats
Technical books that rely on photographs and diagrams have, until recently, been best read in print. For The Digital Negative, I tried the electronic editions and was generally pleased. I went with Peachpit (link here) because it provides the book in three formats: a PDF, which you can read on just about any device, the Kindle format and an ePub, which works with many e-reader applications (including Apple's iBooks app on iPhones and iPads). You get to download all three and find out which works best for you on your device. The only quibble for me has been that the crude watermarking (your name is stamped at the bottom of each page) cuts into some of the photographs on some pages — that would annoy me in a photographic monograph more than it does in this instructional book and on balance, the sheer convenience means that I can still recommend going electronic for this one.
Amazon UK has the printed book or their Kindle edition (which I haven't tried).
Shoot Raw news
It has been a very good year for us, I'm happy to say. We've been working throughout London as well as the north and the south of England (and even for a bit in mainland Europe), doing one-on-one Lightroom and Photoshop work with photographers, getting people printing, helping solve colour management puzzles, making custom print profiles and even helping to design and build a website or two for photographers. When things are quieter, we're hoping to put details of some of this work online in a revised version of our own site, together with some of the testimonials we've received. Till then, if you'd like more information about the kind of work we do and some examples of the broad range of photographers we're working with, please use the (now very short!) contact form – we'd love to hear from you.