Background
In February 2010, Bahi helped teach digital workflow and elements of digital photography to emerging and aspiring photographers at the Photo Finish course at Four Corners Gallery.
This page will hold resources for students on that course, helping with digital photography—the business, the technical and the personal. Our hope is that it might also eventually be of help to other people in the UK looking for information on digital photography and digital workflow.
Alain Briot interviewed by Peter Urban
This is a very inspiring interview, as I mentioned to the students. I'd read a lot by Briot on the Luminous Landscape but, till seeing this interview, couldn't understand his work at all.
The interview was split into two parts; part one and part two.
A note about photography podcasts
It's counterintuitive that an entirely visual medium should lend itself so well to audio-only programming. Nevertheless, there are several excellent podcasts out there for you. They're all free, whether you get them from the iTunes Store or via an RSS feed; in many cases, the creators accept donations. It also helps raise their profile if you leave favourable reviews at the UK iTunes store.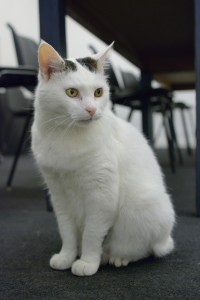 Above: Oscar, the resident cat at Four Corners Film Gallery
Lenswork podcast
Brooks Jensen, editor of the excellent Lenswork Magazine, maintains a podcast that discusses photography (his own and others') broadly, generally avoiding technical issues. Sometimes insightful, sometimes amusing, sometimes philosophical and almost always worth listening to. There are some great episodes in the archive. You can also subscribe for free via the UK iTunes podcast directory.
Camera Position podcast
Jeff Curto is Professor of Photography at Du Page College and a photographer, known for the large-format film work he's doing in Italy, where he also conducts photo tours. It's worth going right back to the early episodes of Camera Position—it's insightful and well put together. Again, you can subscribe for free via the iTunes UK podcast directory.
The Candid Frame podcast
Ibarionex R Perello (see this site as well) is a photographer who has a great way with colour and light; he's based in LA and also teaches and writers. He interviews photographers of many different ages and genres, new and old, for this excellent series. Go back to the early episodes to hear a very different, much less slick interviewer—today, Ibarionex talks to the David DuChemins and Jay Meisels of the world with confidence.
It's very revealing to hear a photographer talk about photography and life and the Candid Frame is useful just as much for the way the interviewees say things as for what they say. The homepage is here and you can get it from the UK iTunes podcast directory for free here.
Thoughts on Photography podcast
Paul Guigère is an exhibited American photographer who talks about that aspect of his life and also interviews fine-art photographers about it. Again, insightful and useful. Homepage here and free UK iTunes podcast directory.
Lightroom books
See our recommended selection and the reviews we wrote for each book on our Shoot Raw Store. Each initial review for a product is ours.
Lightroom video tutorial
See this blog post.
Lightroom plugins
Most of what you need, you can find at this page maintained by the indefatigable Jeffrey Friedl—a one-man Lightroom plugin factory.
The Online Photographer
Probably the best place on the web for to grow your knowledge of photography and photographers, and your appreciation for them. Edited and mostly written by Mike Johnston, who's a strong contender for the best living writer on photography. It's at theonlinephotographer.com
Bythom.com
The best Nikon-centric writing available. It's by Thom Hogan and you can find it at bythom.com—it's also the source of the best Nikon use manuals around.
On Being a Photographer
Great little book by the late Bill Jay and Magnum photographer David Hern. Get it from the Lenswork site here.
More to come. Comments? Requests? Please write or leave a comment if there's stuff you'd like to see added.