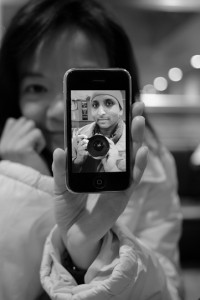 Bahi Para is a co-founder of Shoot Raw and its main workflow trainer.
"I've spent a couple of decades helping creative people use technology more effectively and confidently. Around the mid-1990s, my clients were mainly designers and video producers in Wales; later, they were Mac users in London and Brussels and today, they're mostly photographers.
"I photographed events professionally for a few years in London and today, work mostly on my own projects – I photograph and process often, as you would expect, and constantly stay current on topics relating to image processing and digital photography. I do custom printing and post-processing work for other photographers and worked for five years (2010-2015) as a sessional lecturer at Ravensbourne, teaching digital workflow, post-processing and related topics to undergraduates on the Digital Photography BA (Hons) course, where we used digital medium format Phase One backs and cameras, and the usual range of DSLRs. I've delivered courses on workflow and colour management at DMIC, Four Corners Film and other places. Most of my work recently has been one-to-one tuition with a range of interesting photographers and organisations, including photo editors and magazine publishers. See testimonials for examples.
"I use Nikon, FujiFilm X and Panasonic cameras. I began shooting with my first digital camera (a Ricoh) in 1999 and am typing this bio next to a sorry-looking collection of mostly battered film cameras that I keep meaning to make better use of. I use Lightroom Classic, DxO PhotoLab and Adobe Photoshop for post-processing and image management, and a variety of colour management packages with X-Rite and NEC hardware. I stay current with several other raw workflow and imaging applications. Printing for clients and ourselves is done on our Epson A2 archival pigment printer using a range of baryta-based fibre papers; I create digital c-type prints for some clients using print bureaus in London. I've printed for exhibitions in London and overseas, have collaborated with clients' photography books with various publishers in the UK, France and Italy and have helped countless photographers achieve excellent prints with their own equipment.
"To e-mail me, click here.