Posts Tagged 'Beginner'
September 23rd, 2010 by Bahi Para
Last updated: Monday, 27th September: booking page is now live.
We're really pleased to be able to offer you training in central London, at last! We've had lots of requests for more affordable training and we've now found a solution we're delighted with.
We're bringing to this group training course everything we've learned from our successful one-on-one workflow tuition about what photographers find easy and what they find difficult, so we know what to spend a little more time on.
We'll keep updating this post with more details.
Where
The training sessions will be held at the seminar room at Jacobs, the famous photographic retailer, on New Oxford Street. They'll run from 10am to 5:30pm with a break for lunch and short mid-morning and mid-afternoon breaks as well.
Affordable and flexible
The training costs just £70 per person per day, including VAT. This really is fantastic value for a small group course. (Maximum twelve attendees.)
We've done everything possible to keep costs low so there are no frills. We're not training in a computer room so you won't be needing your laptop—just bring along a pen and notebook (the type with paper in it, not a CPU, Intel or otherwise). The cost covers just the cost of the course.
You'll definitely get more out of the training if you can make it to both days. On the second day, the format will allow question-and-answer time and recap but we'll also go on to cover more advanced topics; that approach always helps the learning process. However, you'll be able to book just the first day or (if you just need some questions answered and a little help with more advanced topics) just day two. Again, we're keeping things as flexible as possible.
Day one: Introduction and complete overview of a Lightroom 3 workflow, Monday 18th October 2010
This day will leave you feeling well informed about the complete workflow and about what Lightroom 3 can do for you. Many of the photographers we've trained over the last year have been wary of at least one aspect or another—this first day of training is where you leave behind that uncertainty and learn the power of every part of the application; it builds knowledge and confidence. Setup, preferences, importing, filing strategy, keywording, collections, development, filtering, export for web, printing… this day will be a thorough introduction to a workflow based on Lightroom 3.
Cost: £70 including VAT.
Day two: intermediate and advanced Lightroom 3 tuition/Q&A, Tuesday 19th October 2010
More detail on day two and a more open format, with lots more time for questions. We'll be looking at some essential third-party plugins and providing recommendations, we'll go into detail about the various ways in which you can combine your Lightroom workflow with Photoshop and we'll talk about creating your own presets to speed up every aspect of your Lightroom workflow (import, development, local adjustments and export). We'll cover local corrections in more depth. You and the other attendees will lead the Q & A. Again, check back later for details.
Cost: £70 including VAT.
Get all your Lightroom questions ready and bring them with you on Tuesday—you'll get plenty of time to ask them and get them answered in detail.
Payment
You can able to pay with PayPal (which accepts credit cards, if you have no PayPal account) or by bank transfer (contact us for details) or by cheque. You willll get a full VAT invoice.
Transport and location
There could hardly be an easier London location to get to. Jacobs is in the West End, near Tottenham Court Road tube station (Central and Northern lines) and close to Oxford Circus (Victoria and Central lines) in an area served by many bus routes. You can plan the London part of your journey by clicking here to get to TfL's Journey Planner. (The link will set things up correctly for Jacobs, New Oxford Street, as your destination. Just enter your starting station or post code.)
Jacobs
Big photographic retailer in London with an excellent reputation and keen prices. The course will be held downstairs in the seminar room in the Professional Services department. Jacobs have been very accommodating in our dealings with them and we can highly recommend them. You'll find an excellent stock of cameras and lenses (new and used) and a wide range of accessories at very keen prices.
How to book
Just visit the booking page here.
Pass it on
If you know people who might be interested in this offer, please pass on our details and tell them to check later in the week.
Questions?
Fire away—send e-mail, leave a comment or give us a call: 020 3092 2907.
Updates
For updates, check back here or subscribe to the blog by e-mail or RSS/Atom.
March 16th, 2010 by Bahi Para
Update 12th April 2010: the price of Elements is now back to normal. The offer lasted till 11th April 2010 so over three weeks in total. Still very good value but the prices mentioned below are no longer available from Amazon directly . The article will stay up since it provides some detail on using Elements with Lightroom.
First, our apologies to the regular Photoshop users among you and to those of you outside Europe. You can skip the rest of this note.
We don't plan to do this sort of thing often but we received e-mail today from Amazon UK mentioning that it is now listing Photoshop Elements 8 at less than £50 as of 16 March 2010. That price includes VAT and shipping. This is the boxed, retail DVD and by UK standards, that price is an absolute bargain. (US readers who are still reading will raise their eyebrows at that description but sadly, it's true.) The list price is £75 and it routinely sells on Amazon for £65.
It comes as a Mac version
(Intel processor only) or a Windows version
and both are currently at the same price.
Compared with most of the newer image editors intended for casual and occasional use, Elements wins hands down. It now offers layers, full Adobe Camera Raw compatibility, adjustment layers, and layer masks (for adjustment layers). It even offers smart sharpening and a version of the context-aware scaling function that you find in the full Photoshop (attempting to keep people and buildings in proportion while you stretch the image).
Who's it suitable for?
Photoshop Elements will suit you if you don't need to do much retouching outside Lightroom or Aperture but do need to clone out a stray object or element or if you need to run third-party noise-reduction plugins or something else requiring Photoshop. It will also suit you if you previously outsourced most of your own post-processing (or provided your clients and editors with images that weren't retouched) and are only now beginning to do more of it yourself. It's an excellent, low-cost way of beginning your Photoshop journey.
Elements 8 compared to Photoshop CS4
For occasional use, Elements 8 has only three significant weaknesses compared with Photoshop 11 (CS4).
It doesn't allow you to do as much work on 16-bit files as the full version of Photoshop does
It doesn't offer any access to the LAB colour mode
It doesn't allow you to convert to CMYK.
(It's also not a 64-bit application but neither is the full Mac version of Photoshop CS4.) Both LAB mode and the ability to work at 16-bit depth are useful but for many people who do most of their work (including local adjustments) in a raw converter like Lightroom or Aperture, these things might matter less than they once did.
LAB mode in Photoshop is very powerful but relatively few people use it today, particularly after recent additions to Photoshop's functionality, offering the "fade to luminosity" function. (That's not to say LAB isn't useful, powerful or under-rated—it's all those things and fans of LAB mode will be horrified, of course, to read all this. It's just relatively unusual to see people actually use it today, now that editing in RGB is as powerful and capable as it now is.)
You'd convert to CMYK if you're preparing press-ready work (for magazine or book adverts, say). Again, you'll already know if you need it. If you ask nicely, many publications' prepress folks will do the conversion from RGB to CMYK themselves if you provide them with tagged files that you produced in a colour managed workflow.
Working in 16-bit mode, particularly in a larger colour space like Adobe RGB (all things we will discuss in future articles) is a way to help preserve smoothness of tone and colour, among other things. It will help avoid banding and other colour artefacts. The banding and other issues are mostly likely to appear when you do lots of work to the contrast, saturation and exposure of part or all of an image, particularly in areas of the image the show smooth surfaces
If you have used Lightroom, Aperture or another raw converter to do most of the grunt-work, like exposure compensation, highlight recovery, tone, white balance, contrast, dodging and burning) on a raw file, you've done most the things that would cause problems with 8-bit files. Performing some further minor work (some cloning or healing in small areas) on an 8-bit file is not usually something to worry about.
In addition, if you'd like to use Photoshop to run a noise-reduction plug-in like Neat Image or Topaz Denoise, the plugin will usually work in 16-bit mode in Elements 8. If you intend to use layers to blend the post-NR image with the regular image, you need to convert down to 8 bits so the conversion after you've run the noise-reduction routine to minimise the effect. (Elements 8 opens and saves 16-bit TIFFs—it's just that layers and some of its own built-in filters and functions don't work in that mode. Luckily, the third-party NR plugins work fine.)
Lightroom integration with Elements 8

Above: setting up Lightroom to work with Elements 8 for work that will remain in 16-bit throughout.
Lightroom integration with Photoshop CS4 is deeper than with other image editors like Elements. However, Elements offers most of what you need: in Lightroom's preferences, perform a one-time setup. You specify that Elements 8 is your image editor, you tell Lightroom which colour space to use when creating an export file and which format to and bit depth to work at. Once you've set it up once, you'll have a keyboard shortcut (for example, command-option-E or ctrl-alt-E) to invoke Elements but you can also right-click an image inside Lightroom and edit in Elements that way. Because it's set up, the bit depth, file type and colour space will be taken care of automatically after that.
Lightroom also allows you to set up Elements 8 in different ways (16-bit TIFF, ProPhoto, 8-bit TIFF sRGB) so that you get a choice of options for each image that you send to Elements: you would choose the most appropriate for the task at hand.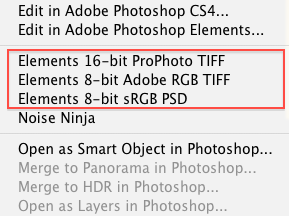 Above: examples of what you might see when you right-click an image in Lightroom having set up different ways of sending an image to Elements 8.
If you do work that requires you to shift to 8-bit mode, first switch to a smaller colour space. (ProPhoto RGB is not a sensible choice for 8-bit work. More on colour spaces another time.)
What you don't get with Elements 8, compared with CS4, is the smart objects integration, the HDR-from-raw-files integration and the ability to create panoramas from your raw shots.
To run noise-reduction plugins
If you were using Photoshop Elements to run a noise-reduction filter like Neat Image or Topaz Denoise, you'd choose to work with 16-bit TIFFs in something like Adobe RGB space. Lightroom will create a TIFF that contains all your existing Lightroom edits and will send it to Elements. When you finish and save your work in Elements, you'll see the edited file in Lightroom, next to the original. Lightroom will handle the 16-bit TIFF as it would any other file, allowing you to export JPEGs, print, etc.
We own and use both CS4 and Elements 8 (for which we paid a good deal more than £49!) here at Shoot Raw, just to make sure we keep up-to-date with both. We can recommend Elements 8 for photographers who don't spend a huge amount of time doing advanced Photoshop work or for people beginning with Photoshop, who'd like to get familiar with the application.
One more thing: if you were to buy Elements at £49 and then upgrade to Photoshop CS4 today at the Adobe UK site, you'd end up saving £30 over the cost of just buying CS4 outright from Adobe. Though it's impossible to say this with absolute certainty, that saving is likely to continue when CS5 is released.
Amazon UK is marking this is "for a limited time only". No idea how long it'll last. We'll try to update or delete this note when the offer has gone.
Disclosures and disclaimers
We earn commission from Amazon UK if you click one of the links and check out and pay for a product within that shopping session. That's nice but the commission (about £2.50 per copy of Elements that you pay for during your visit to Amazon from our links) clearly isn't reason enough to plug the product. We're recommending it because it's good (as long as you understand its limitations—see above), because the sub-£50 price is an absolute bargain and because Amazon UK is a reputable seller. (On which subject, we'd recommend that you buy directly from Amazon rather than one of its resellers—look for "Dispatched from and sold by Amazon.co.uk ".)
The Mac version:
Below: the Windows version
Coming up
We're going to start a series of articles looking at exactly which camera settings affect the data in your raw files when you work with Lightroom and how. We'll be looking at the primary exposure controls—shutter speed, aperture, ISO—and secondary camera settings like saturation, sharpness, contrast and colour mode (meaning options like Adobe RGB and sRGB). Over the series, we'll be giving you definitive answers and explaining the technical language.
If you were sent a link to this post, you can subscribe by e-mail or RSS to receive all future articles in full. It's free.
February 11th, 2010 by Bahi Para
There aren't many applications of the sort that we would use for a fast and powerful photographic workflow. You could argue that, for the approach we advocate and support at Shoot Raw, there are only two real players: Apple's Aperture and Adobe's Lightroom (or Adobe Photoshop Lightroom, to give it its full name).
Alternative approaches
The approach we take isn't the only one. There are raw converters like Raw Photo Processor that aim to provide the highest resolution or the best sharpness (in the case of RPP, it succeeds admirably in those aims and it offers some integration with Lightroom to registered users—its user interface, though, is, shall we say brutally minimal); there are photo browsers (like Photo Mechanic) that aim to provide the fastest way to categorise your pictures and deal with metadata. But only Aperture and Lightroom aim to combine both the raw conversion and the digital asset management functions in one package and employ quick, friendly user interfaces and useful post-processing functionality.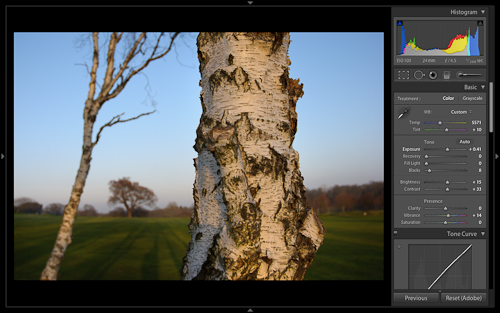 Above: Lightroom 2 screen shot, with develop controls exposed
History
When Apple released Aperture, Adobe had been working on Lightroom (Shadowland) for some time but didn't have a product ready for release. Aperture's initial success showed that a market did exist for this kind of application and Lightroom was released some time later, after a long public beta period. As of late 2009, photographers were overwhelmingly choosing Lightroom over Aperture on the Mac. (Aperture isn't available on Windows but Lightroom, as you might expect, holds a commanding lead over other solutions that platform.) Figures from InfoTrends are fairly conclusive, as reported by John Nack here. (John Nack works for Adobe but the figures he's reporting are independent.)
Image quality in previous versions of Lightroom and Aperture
Both products have offered decent image quality for some time but both have also had their weaknesses. Many users are adamant that one or the other application is streets ahead for their particular camera; our experience has been that the default output Aperture 2.0 has been less blotchy and more pleasing at low light, high-ISO extremes but that Lightroom offered more control over the image and Lightroom 3 beta offers a stronger rendition throughout the ISO range. (It's slow but we expect that to be addressed in the final release.) We haven't yet tested specific new profiles offered for cameras like the Nikon D3 in Aperture 3, following complaints from some users of these cameras in Aperture 2.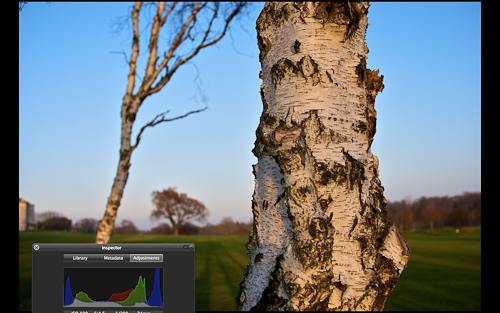 Above: Aperture 3 screen shot, with heads-up display (HUD) minimised.
Image development
One area where Lightroom has had a clear lead since version 2 is in its ability to allow non-destructive adjustments to parts of an image. Exposure compensation, brightness, contrast, saturation, clarity ("punch") and sharpness can all be brushed in or out or applied using one or more gradients. Using the brushes and gradients is quick and easy, and they can be combined and applied one over another. These adjustments are referred to as local adjustments because they affect only parts of an image—you brush them over (or apply a gradient to) whichever areas need them. Best of all, they're entirely non-destructive—you can revist them at any point and alter them or remove them without any need to convert your raw file to something like a TIFF (as was the case with Aperture 2).
Aperture 3 now includes similar brush functions to those used and loved by Lightroom users and closes what was probably the biggest gap between the two applications.
Print and web output
Lightroom 2 offers excellent sharpening for screen and print (using functionality from the highly regarded Photokit Sharpener plugin) for Photoshop. Aperture 3 offers soft proofing, using the ICC profile of your chosen printer/paper combination to give you a better idea of which areas of your image will cause a problem when you print, allowing you to deal with those problems, in advance, on screen. Both are useful functions and both applications will likely end up offering versions of them both. We don't have any inside information but we expect Lightroom 3, due soon, to include soft proofing of some sort and retain its excellent print sharpening.
Asset management
Aperture 3 allows you to include video and audio inside your Aperture database. Lightroom users can add some of this functionality by installing Jeffrey Friedl's Video-Asset Management plugin but it would be nice to have it built in. There are also differences in the two applications' approaches to managing mobile libraries, with Aperture leading the way.
Camera raw file support
This is an area where many photographers feel Apple has been lagging, though users of Nikon and Canon DSLRs in general won't have had much to complain about. Adobe's support for smaller and cheaper digital cameras that shoot raw has certainly been faster and more far reaching—for example, Aperture has just gained support for the Panasonic LX3 (released seven months ago) and still doesn't offer support for the Panasonic GF1 (released five months ago), both supported in Lightroom for many months—but for our market of mostly professional DSLR users, it's probably not a major concern and there are signs that Apple's approach is improving.
Camera profiles
One Lightroom strength (version 2.x onwards) is the existence of camera profiles that try to come close to the camera manufacturers' profiles for popular cameras. That means that they attempt to give you the colour and the look of your manufacturer's raw converters (e.g., Nikon's Capture NX) or in-camera JPEGs. They're pretty good— a clear improvement over Adobe's standard profiles. In particular, many Nikon users will find the Camera Neutral profile within Lightroom 2 to their liking.
Interface
Mostly subjective—you need to download the trials and see how you get on with each application. I initially loved Aperture's loupe effect but came to dislike it over time. (I no longer use it and just use a full-screen zoom.) Lightroom is what's called a modal application, meaning that you switch between develop mode, view mode and so on using a keystroke. It becomes second nature when you're used to it but it does irritate some new users. I loved Lightroom's interface from the moment I used it—it seemed elegant, clean and simple and offered me the chance to customise its behaviour to my taste. Others have had exactly that reaction to Aperture.
Moving libraries between applications
[Update March 2010. We have an article with a little more detail about moving your library from one application to the other here.]
Both applications now support the import of XMP sidecar files (it's new to Aperture). XMP sidecar files hold information about the file's metadata so you'd expect that to mean that ratings and keywords would travel between Aperture and Lightroom if you decide to move your library permanently from one to another. As of February 2010, however, that only works when moving from Aperture to Lightroom. Aperture doesn't read image ratings when importing, even though it clearly writes those same ratings to its own XMP sidecar files when told to. (See the Apple knowledge base article on this issue here.)
Your image edits do not survive the journey in either direction so your non-destructive post-processing work will be lost if you migrate from Lightroom to Aperture or vice versa unless you're prepared to bake in your changes by exporting TIFFs or JPEGs. (That's a significant step—make sure you hang on to your raw files and move those across as well, if you choose to migrate TIFFs or JPEGs.)
Is Aperture 3 good enough to warrant a switch from Lightroom 2?
It's a very strong upgrade for existing users and also a strong offering for new users but most of the switchers are likely to be people who prefer Aperture's interface. There are lots of aspects we haven't discussed above, including great book-publishing options, for one, and publishing options with custom book publishers. All this should seem like good news for Lightroom users—a lacklustre or half-hearted Aperture release at this stage would have left Lightroom with little or no competition in this area and the product would have been more likely to stagnate. Now that Aperture 3 has non-destructive brush adjustments and some other improvements, the game is back on. Aperture 3 should prove to be a good enough product to stop the general move from Aperture to Lightroom and put some pressure back on Adobe to continue innovating.
Faces and places
In brief: Faces, in its current Aperture 3 and iPhoto incarnations, is unlikely to win over many pro photographers or serious amateurs. It's a great idea that will one day be genuinely useful. Places is another thing altogether: if you have a GPS unit with your DSLR or use an independent unit like a Garmin, this is can be a real time saver.
What we're expecting in Lightroom 3
We expect excellent noise reduction (both colour and luminance) and probably soft proofing, though this feature didn't make an appearance in the beta version. We also expect the much improved, more detailed rendering in the Lightroom 3 beta to make it through to the final product in some form. It will retain its excellent output sharpening, gain much improved local sharpening controls (which are a little weak in Lightroom 2) and probably one or two surprises. (These are personal opinions—we have no link to Adobe or Apple—but we're quite confident about them.)
Advice for existing users and new users
If you have a large library in either application, you're probably best sticking with it for the moment. Both offer free trials so you can import all or part of your existing image library into the competing app and compare output quality, speed, interface and functionality. Run them in parallel for a month. With the release of version 3, Apple has shown clearly that the Aperture project is alive and kicking and perhaps the momentum that the Aperture team has gained recently will carry through to an early, class-leading version 4. If you're starting out, you now have a genuine choice again between competitive applications—something that couldn't have been said a week ago.
Will Shoot Raw be offering Aperture 3 training?
We're certainly looking at the product with renewed interest—that wasn't the case with Aperture 2, after a short testing period. We welcome your thoughts and we'll keep you posted.
The iPad question
Will there be raw converters on the iPad device? I'd guess so, eventually. And which raw converter is most likely to make is likely to make it to the iPad first? Well, that's easy…:-)
Where to get the trials.
The Aperture 3 trial (for UK users) is here. Apple will mail you a download link and a serial number that's good for 30 days.
The LIghtroom 3 public beta (free, expires April 2010) is here.
The Lightroom 2 trial is here.
Where to buy
Here are our Amazon UK links—all Amazon prices include VAT.
Aperture 3 upgrade from Aperture 2 (requires an Intel Mac and Leopard or Snow Leopard):
Lightroom 2, full version for Mac OS X or Windows:
For Lightroom users upgrading from version 1 to version 2 (OS X or Windows):
Amazon isn't allowing affiliates to link to the full version of Aperture 3 yet (not sure why) but you can find it here.
Aperture 3 is also available at the Apple UK retail store.
Questions?
If you have questions about Lightroom, Aperture or raw workflow in general, drop us a line and if we can, we'll turn the answer into a new blog entry.
December 9th, 2009 by Bahi Para
When we deliver one-to-one Lightroom training, we leave photogrphers with one of several published Lightroom books to supplement their notes. (Watch for reviews of these books in future articles.) Some photographers understandably prefer to watch video tutorials, rather than plough through a book, in which case we recommend this video tutorial.
The instructors
When you learn using a one-way medium like video, you're at the mercy of an instructor's styles and priorities but the approach adopted by the two presenters of these videos should please most viewers.
Jeff Schewe works closely with Adobe on Lightroom and Camera Raw, testing the software and providing his input as a professional commercial photographer. He is also the current author of the best source of information on sharpening digital images for print and screen, the awkwardly named Real World Image Sharpening with Adobe Photoshop, Camera Raw, and Lightroom
[Amazon UK link]. (That book is highly recommended as well—essential reading, in fact, particularly if you produce your own prints—but it's not an introduction to Lightroom. It's also worth a look even if you already have the late Bruce Fraser's original edition.)
Michael Reichmann is an alpha tester for Adobe products, a long-established photographer himself and the man behind The Luminous Landscape.
Those of you familiar only with Jeff Schewe's posts to various forums, for which he sometimes employs what you could call a very direct approach, might be surprised by the avuncular style on display here— there's a twinkle in Jeff's eye that came as a surprise to me when I first watched it. The conversational format of the video works well and the collection is easily worth the price of download, at $40 for more than seven hours of HD, split into many short, bite-size episodes.
Good for beginners and existing users
If you're planning on booking one-to-one tuition with us, this tutorial is a good primer but it's just as useful if you plan to work alone. You're likely to learn quite a bit and even experienced Lightroom users will probably find new information and appreciate Jeff's insight. The tutorial covers most aspects of Lightroom 2 and only minor details are outdated. (There were some changes introduced in the resizing methods used by Lightroom at version 2.3, for example.)
After watching the video a few times…
If you have specific questions after completing the videos, you could always buy some support time with us. More information coming soon.
We have no links whatsoever with Mssrs Schewe or Reichmann, nor with the Luminous Landscape, except as satisfied customers.
New readers always welcome
If you're finding these snippets useful and you know others who'd benefit from reading them, please pass on the details of the site. You can sign up for free with Google to get new articles e-mailed to you every morning (UK time) so you don't have to keep checking back. The link is on the front page but you can also click here. (We never pass on or sell your e-mail address.)